Sbobet, the main sports betting provider in the Asian market, must have a lot of traffic, since some of the most exciting football tournaments in Asia are taking place right now.
Football is definitely gaining speed in Asia. There will be pandemonium in Asia once the 2022 World Cup gets underway. Until then, the football will be buzzing in the cities all across the middle east through to China, Japan and Indonesia.
Japan
The Japanese amazed us during the World Cup where they even got to the round of 16. Rivers of tears flooded the stadium as Japan took the lead against Belgium but could not hold on to it and lost due to a fabulous strike from Chadli in the 94th minute. Japan was the only Asian team to make it to the round of 16. There is always room for improvement and we cannot wait to see what other Asian football teams have in store for us in the future.
Indonesia
Apart from the international games, we had our eyes on the domestic leagues in Asia. Persib is on top of the Super League table in Indonesia, five points clear of second place. In this 2018 season, Persib Bandung managed to sign Roberto Carlos Mario Gomez for two years.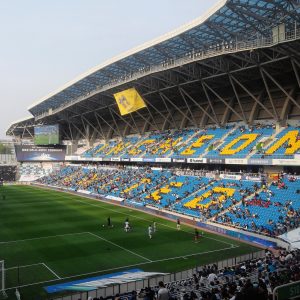 The former head coach of the Malaysian national team was rejected a higher salary and was looking for work after his quick international spell. Undoubtedly Mario Gomez managed a number of great performances by the west Java side. He is one of the few coaches that still prefers a 4-4-2 in this day and age. Persib has managed to make great use of Belgian forward Ezechiel Ndouasel – evidenced by 13 goals in 16 appearances.

At this moment, there is no clear runner-up to Persib in the Super League. Three teams tie at second place and the seventh-placed team in the competition is merely two points away from second place. Therefore, no accurate predictions can be made this early on about what the league table might look like at the end of the season.

Madura United look to challenge Persib and turn to squad depth rather than a talisman. Madura do not rely solely on their strikers to deliver the goals but rather all over the final third. Surprisingly, United's top scorer is their centre-back Fabiano Beltrame with a whopping 6 goals in 21 matches. Teams that do not put all their eggs in one basket tend to go very far in the later stages of the competition for a number of reasons. It is very hard to prepare in advance tactically when facing Madura because there are too many threats on all sides.
China
Meanwhile, in China, the Super League took another surprising twist last Tuesday, as Shanghai SIPG is now closer than ever to the title, after defeating the ruling champions Guangzhou Evergrande. Football is becoming increasingly popular in China, as the government is pouring investments and bringing European stars in. With such attitude, China might become the next football superpower very soon.